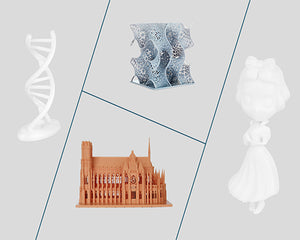 Creality UV Curable Resin
With the HALOT series resin printers released on the seventh-anniversary celebration, Creality has launched complementary products——Creality UV Curable Resin.
Same as most manufacturers, it is a 500 ml volume bottle.There are four colors:gray,flesh, black, and transparent.Each color is committed to providing better quality and color.
It's important to note that you shouldn't expose yourself to this resin odor for too long. We recommend wearing a mask and always using these resins in a well-ventilated space.
 Quoted exposure times for this resin are in the range of 5 to 15 seconds, while the wavelength is 405 nm. All in all, this is a good standard resin. It prints nicely and provides a reasonable amount of structural stiffness to the printed models.
Why you should buy Creality UV Curable Resin?
Creality curable resin is designed with good toughness to provide prints a better performance on brittleness. It's less likely to break small features on a print.
Creality Curable Resin is designed specifically for LCD 3D printers with a 405nm light source, allowing a faster curing time with 2-3 seconds per layer with most the Creality Resin Printers.
Unlike other resin with pungent odors, Creality Curable Resin minimizes the bad smell(If you need to smell the odor of a chemical, waft or fan the fumes toward your nose with one hand. Do not put your nose over the container and inhale the fumes.)
Given the outstanding performances, Creality standard resin is suitable for most DLP/LCD 3D printers. Works best with the LCD 3D Printers.
Work for LD-002R/LD-002H/LD-006/CL-60/CL-89/Photon Mono Max/Elegoo Mars Pro/Mars 3.
---