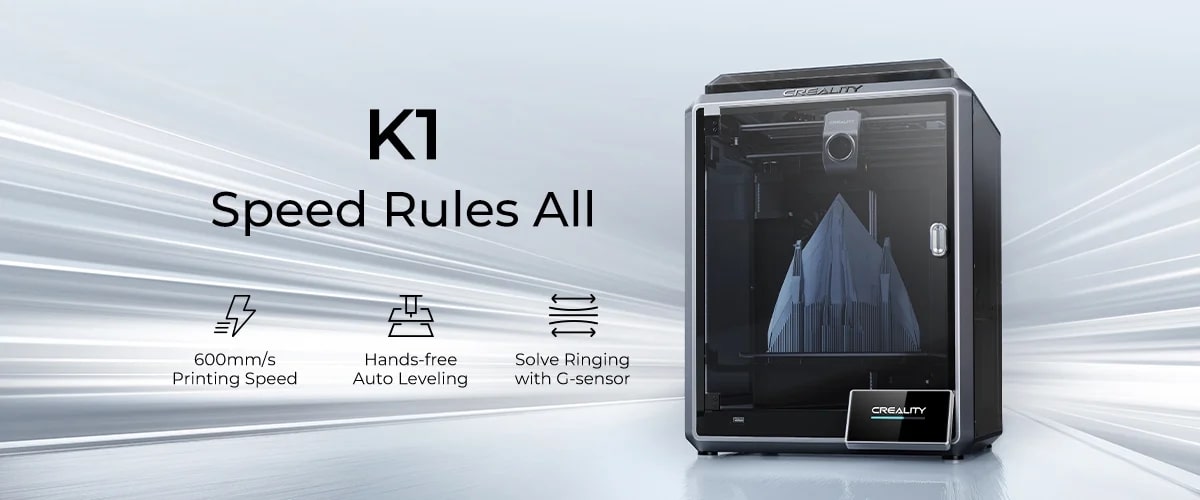 Creality K1 3D Printer Main Features 
Creality K1 3D printer prints at 600 mm/s, a strong competitor of the Banbu Lab P1P. Featuring a build volume of 300*300*300mm and a lightweight print head bolstering "innovative motion systems" and integrated"G-sensors", resonance, ringing, and ghosting commonly caused by high-speed printing are all alleviated.
600mm/s Max Speed
Auto Levelling
32mm³/s Max Flow Hotend
20000mm/s² Acceleration
Filament Runout Sensor
Unibody Die-cast Frame
Dual Cooling Fan
220*220*250mm
12X Faster and Improved Efficiency
Accelerating at 20000mm/s², Creality K1 3D printer ramps up to 600mm/s in only 0.03s. Delivering full speed in 90% of the printing time, it is literally 12 times faster than the other regular FDM 3D printers.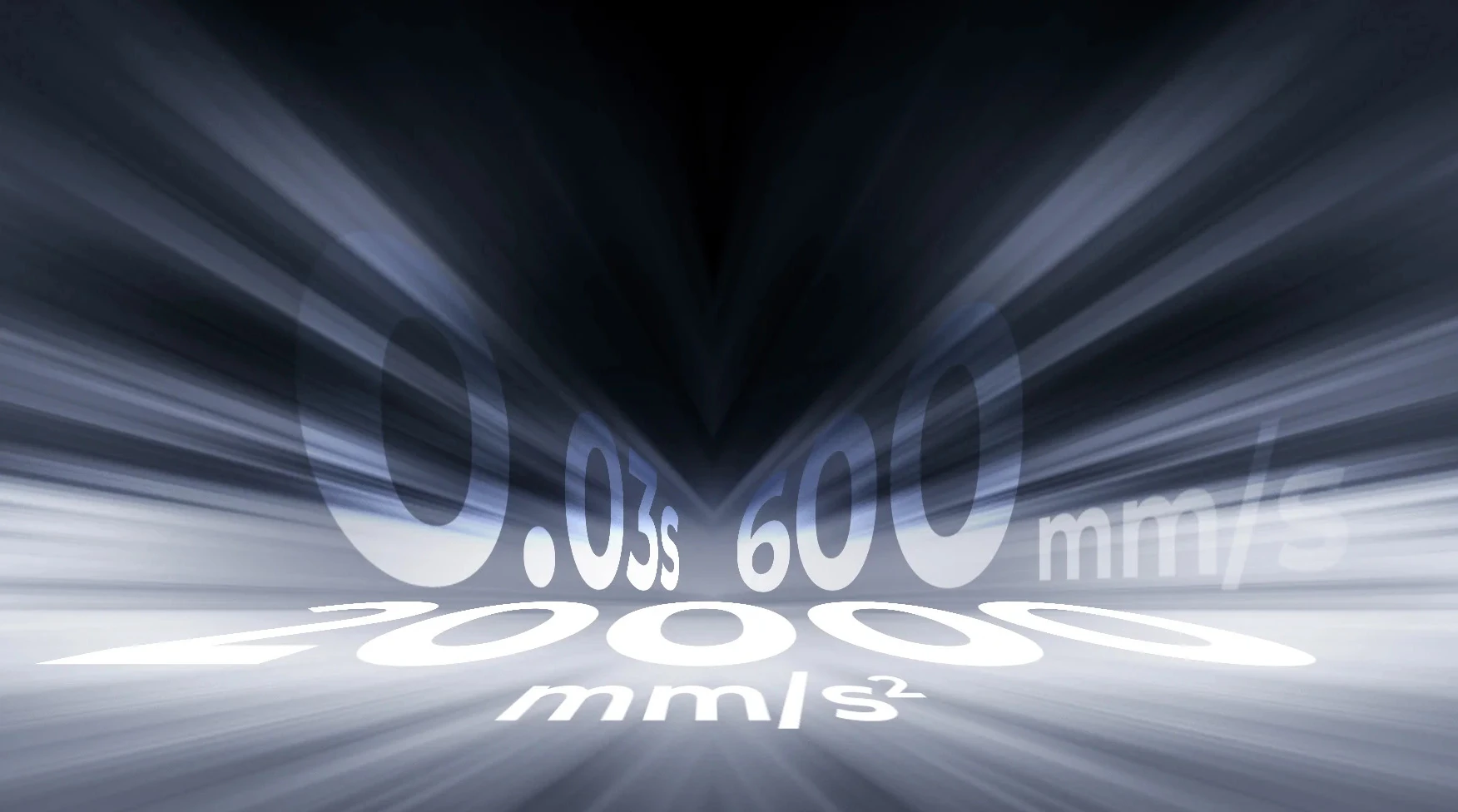 Nimble Setup for Speed
Creality K1 3D printer combines the nimble Core XY with a 190g lightweight printhead for less motion inertia and high printing efficiency.
32mm³/s Max Flow Hotend & Dual-gear Direct Extruder
Creality K1 3D printer adopts a new ceramic heater that encircles the entire hot end. It heats to 200 Celsius in 40 minutes and melts the filament instantly. Moreover, the dual-gear direct extruder delivers 50N strong extrusion force. Hotend is combined with a titanium alloy heat break and a copper alloy nozzle, working with flying colors in up to 300 Celsius

Model Cooling by Dual Fans
Creality K1 3D printer equips a large fan on the printhead with air ducts to cool the prints directly and an 18W auxiliary fan in the build chamber that enhances the cooling effect, resulting in improved cooling performance.

Auto Leveling
An array of strain sensors are embedded in the heated to generate an accurate leveling mesh. The whole process happens on its own after the printing starts. You don't need to level it manually.
Creality Print 4.3 with Speed Genes
The latest Creality Print 4.3 slicer includes rich presets and streamlines the slicing process into 3 simple stages. Besides, it bolsters high-speed printing with variable line width, arc path, and so on.

Creality OS and Hardware
Creality K1 3D printer adopts the smart Creality OS. It features a straightforward UI, and syncs data and commands with PC, phone, Cloud, and add-on modules. The dual-core 1.2GHz CPU powers high-speed printing with ease. The 8G ROM stores up to 400 model files and enables quick writing and reading.

Support WiFi Connection and Carefree Control
K1 can print via USB drive or WiFi. With a network connection, K1 can be controlled or monitored remotely from Creality Print or Creality Cloud APP/WEB. Cluster control is also allowed when many K1 printers are online. Once the printing is complete or abnormal, a notice will be sent to your phone or PC.
Unibody Die-cast Frame
The unibody die-cast aluminum alloy frame of K1 is CNC machined to be precise and rigid. It enables steady printing at high speed. And the print quality is excellent the whole time.
Solve Ringing and Z-banding
The upgraded Z-axis with more accurate positioning reduces Z-banding effectively. The texture has never been so subtle. A G-sensor in the printhead measures the resonance frequencies of high-speed printing, and auto-tune the printer to mitigate it. No more ghosting or ringing on the print.
Creality K1 - Speed Rules All
600mm/s Max Speed
20000mm/s² Acceleration
32mm³/s Max Flow Hotend
Hands-free Auto Leveling
Self-test with One Tap
Solve Ringing with G-sensor
Frame with Die-cast Parts
Auxiliary Cooling Fan in Chamber
Creality K1 3D Printer Features
Printing Technology: FDM
Build Volume: 220*220*250mm
Product Dimensions: 355*355*480mm
Package Dimensions: 415*415*550mm
Net Weight: 12.5kg
Gross Weight: 16kg
Printing Speed: ≤600mm/s
Acceleration: ≤20000mm/s²
Printing Accuracy: 100±0.1mm
Layer Height: 0.1-0.35mm
Extruder: Dual-gear direct drive extruder
Filament Diameter: 1.75mm
Nozzle Diameter: 0.4mm(compatible with 0.6/0.8mm)
Nozzle Temperature: ≤300℃
Heatbed Temperature: ≤100℃
Build Surface: Flexible build plate
Leveling Mode: Hands-free auto leveling
File Transfer: USB drive, WiFi
Display Screen: 4.3" color touch screen
AI Camera: Optional
AI LiDAR: Optional
Power Loss Recovery: Yes
Filament Runout Sensor: Yes
Input Shaping: Yes
Lighting Kit: Yes
Sleep Mode: Yes
Rated Voltage: 100-120V~, 200-240V~, 50/60Hz
Rated Power: 350W
Supported Filaments: ABS, PLA, PETG, PET, TPU, PA, ABS, ASA, PC, PLA-CF, PA-CF, PET-CF
Printable File Format: G-Code
Slicing Software: Creality Print; compatible with Cura, Simplify3D, PrusaSlicer
File Formats for Slicing: STL, OBJ, AMF
UI Languages: English, Spanish, German, French, Russian, Portuguese, Italian, Turkish, Japanese, Chinese
About Creality Shop
Creality R&D investments in 3d printing cover FDM/Resin 3D printers, 3D Scanners, Filaments, Resin, as well as 3D Printed drones and robots that back up STEAM education.
Creality.shop is the official online shop Creality3D Official's online retailer in EUROPE, Mainly selling RESIN 3D Printers, Resin for 3D Printers, FDM 3D printers, PLA Filament, and 3D Printing Accessories/Parts.
We provide excellent customer service and after-sales service. Any pre-sales or after-sales questions can email us: service@creality.shop, we will provide you with professional answers, and professional technical support services
We hope our products will enable you to turn your ideas into reality no matter you are an engineer, a hobbyist or a student.
Our Sale History
Our products are all certified to CE, FCC, and ROHS standards, have exported to more than 192 countries including, but not limited to France, the United States of America, Australia, Russia, the United Kingdom, Germany, Singapore, Egypt, and India, bringing technological innovation to all walks of life.
In terms of retail sales value in 2021. The sales of similar products rank among the top three in the 3d Printer industry. Every time before we ship overseas, we will conduct strict quality inspections to minimize the defect rate.
We are not only committed to providing customers with the best 3D printer but also committed to providing you with the best 3D printer service.
Hope our 3d Printers and service can bring your life satisfaction and convenience.
Frankfurt Warehouse, Germany
Choosing a selection results in a full page refresh.
Press the space key then arrow keys to make a selection.
Use left/right arrows to navigate the slideshow or swipe left/right if using a mobile device